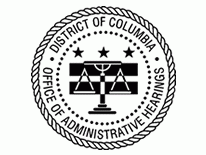 Administrative Law Judge
Judge Figueroa was appointed as an Administrative Law Judge for the District of Columbia Office of Administrative Hearings in December 2006. She currently presides over Board of Appeals and Review, Child Support Enforcement, Department of Environment, Fire and Emergency Medical Services, Department of Health, Department of Healthcare Finance, Department of Human Services, Department of Transportation, Department of Public Works, Metropolitan Police Department, Office of Planning, and Taxicab Commission cases. Judge Figueroa has served on the Office of Administrative Hearings Rules, Mediation, Case Management, and Pro Bono Committees.
Judge Figueroa came to the Office of Administrative Hearings after a 20-year career in the non-profit and private sectors, with a primary focus on real estate and non-profit housing. Judge Figueroa received her Juris Doctor from Antioch School of Law. She is a member of the District of Columbia and Wisconsin bars.