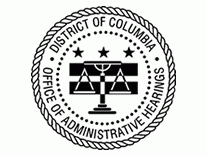 Administrative Law Judge
Judge Goode was appointed to be an Administrative Law Judge for the District of Columbia Office of Administrative Hearings in June 2005. He presides over cases from a number of jurisdictions, including unemployment compensation, the Department of Health, the Office of Tax and Revenue, and the Office of the State Superintendent of Education. Judge Goode was in private practice before coming to OAH, where he mostly handled family law cases in the District of Columbia Superior Court. Before that, Judge Goode was a trial attorney with the District government for many years.
Judge Goode received his undergraduate degree in economics from the American University and his Juris Doctor from the Antioch School of Law.