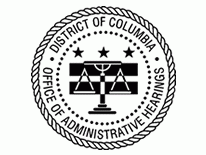 Administrative Law Judge
Judge Harmon received his appointment as an Administrative Law Judge for the District of Columbia Office of Administrative Hearings in October 2004, and he currently presides primarily over unemployment compensation hearings.
Prior to his appointment, Judge Harmon worked for the District of Columbia Department of Consumer and Regulatory Affairs from 1995 to 2004. From 1988-1995 he worked for the District of Columbia Office of the Corporation Counsel (Office of the Attorney General).
Judge Harmon was in private practice from 1986-1988. He served as an Attorney Advisor for the United States Department of Treasury from 1984-1986 and as an Assistant District Attorney in the Philadelphia District Attorney's Office from 1983-1984. Judge Harmon held a clerkship for the Honorable Raymond L. Finch, U.S. Territorial Court, U.S. Virgin Islands.
Judge Harmon graduated from Harvard College and received a Bachelor of Arts degree in Social Psychology. He earned a Juris Doctor from Howard University School of Law.