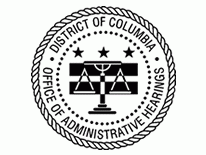 Administrative Law Judge
Judge Jenkins was appointed as an Administrative Law Judge for the District of Columbia Office of Administrative Hearings in August 2005. She currently presides over cases from the Departments of Consumer and Regulatory Affairs, Public Works, Transportation, Environment, and Health. She also handles mediations for Rental Housing cases.
Prior to her appointment as an Administrative Law Judge, Judge Jenkins practiced with the United States Postal Service's Office of the General Counsel, the law firms of Fisher and Phillips and Mack & Bernstein in Atlanta, Georgia, and the Pension Benefit Guaranty Corporation in Washington, D.C. Judge Jenkins' background includes litigation before federal administrative agencies, and state and federal courts. She has served as counsel to corporations and trade associations as well as city and county governments.
Judge Jenkins received her Juris Doctor from Georgetown University Law Center, and received her Bachelor of Science magna cum laude from the University of South Carolina.
Judge Jenkins is a member of the National Association of Administrative Law Judiciary, the National Association of Women Law Judges, and the Mediation subsection of the District of Columbia Bar.