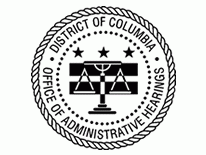 Administrative Law Judge
Judge Tucker was appointed to the District of Columbia Office of Administrative Hearings in August 2005 and hears cases in the rental housing, Department of Consumer and Regulatory Affairs, Office of Planning, and Department of Public Works jurisdictions. Prior to her appointment, Judge Tucker served in a number of positions in the District of Columbia government including Deputy Director, Medical Assistance Administration (Medicaid), Department of Health; Deputy General Counsel, Department of Health; Chief, Legislative and Regulatory Affairs, Department of Human Services; and Legislative Counsel, Council of the District of Columbia. Judge Tucker also practiced land use law at the Linowes and Blocher law firm.
Judge Tucker received her undergraduate degree from Duke University, and her Juris Doctor from Washington College of Law, American University.