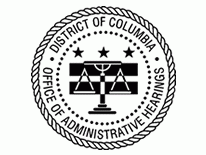 Administrative Law Judge
Judge Wilson-Taylor has served as an Administrative Law Judge in the District of Columbia Office of Administrative Hearings since September 2004. She currently presides over cases from the District of Columbia Public Schools, the Department of Public Works and the Department of Transportation. She previously presided over Rental Housing cases and cases from the Department of Human Services, and the Metropolitan Police Department.
Judge Wilson-Taylor began her legal career as a staff attorney for Community Legal Services in Philadelphia. She later relocated to Washington, D.C., and served as a staff attorney at Neighborhood Legal Services. In 1978 she joined the legal staff of the Department of Employment Services and held several positions, most notably, Advisor to the Director for Second Level Appeals; Chief, Office of Appeals and Review; General Attorney, Assistant General Counsel and General Counsel. In 1991, then Mayor Sharon Pratt Kelly appointed Judge Wilson-Taylor to the position of Deputy Director of Labor Standards for the Department of Employment Services. From 1994 to 2004, Judge Wilson-Taylor served as an Administrative Hearing Officer for the Department of Employment Services.
From 1989-90, Judge Wilson-Taylor served as secretary to the District of Columbia Bar and authored a monthly column which appeared in the Washington Lawyer magazine entitled Report on the Board of Governors. Judge Wilson-Taylor is a former Chair of the Judicial Council Division of the Washington Bar Association. She is also a former President of The Greater Washington Area Chapter of the Women Lawyers Division. She is a founding member of the Coalition of 100 Black Women and a member of Delta Sigma Theta Sorority.
Judge Wilson-Taylor received a Bachelor of Arts from Fisk University and earned a Juris Doctor from North Carolina Central University School of Law.