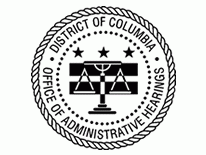 Administrative Law Judge
After almost two decades of District of Columbia government service, Alexis Taylor joined the OAH team as an Administrative Law Judge in June of 2017. She is presently assigned to the public benefits jurisdiction.
Prior to this appointment, Judge Taylor was Director of the District of Columbia Office of Disability Rights. In this role, Judge Taylor was responsible for providing leadership and management of the Office which ensures that the District is in compliance with the Americans with Disabilities Act and other disability-related legislation.
Before joining Disability Rights, Judge Taylor served as the General Counsel for the DC Office of Human Rights for almost 11 years. In her role as General Counsel, she was responsible for drafting administrative decisions, policy guidance, and regulations, as well as for responding to all legal matters in the office. She also provided training on local and corresponding federal human rights laws to thousands of constituents, including District employees and private sector staff. Prior to coming to the Office of Human Rights, Judge Taylor worked in the DC Office of the Inspector General as Attorney Advisor, EEO Officer and Special Assistant United States Attorney. In this capacity, she prosecuted claims of Medicaid Fraud and claims of abuse and neglect of vulnerable adults.
Judge Taylor began her legal career as an associate in a Chicago-based professional liability firm; she then worked as a policy analyst for the American Medical Association in Chicago, IL. She is also active with the DC Bar and was appointed by the DC Court of Appeals as a member of the Committee on the Unauthorized Practice of the Law.
Finally, Judge Taylor received her Bachelors of Science in Nursing from Georgetown University and her Juris Doctor from Georgetown Law Center. She received her graduate law degree, Master of Laws (LL.M.), from DePaul University in Chicago. Prior to law school, Judge Taylor worked as a registered nurse at several District, Maryland, and New Jersey hospitals specializing in adult medicine and neonatal intensive care.