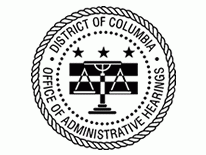 Administrative Law Judge
Arabella W. Teal joined the District of Columbia Office of Administrative Hearings as an Administrative Law Judge in August 2005. Following a two-year probationary term, she served a ten-year term. Judge Teal was reappointed to a six-year term in November 2017. While serving as an OAH Administrative Law Judge, she has heard and decided cases involving wide variety of agency actions, including unemployment insurance appeals, rental housing petitions, appeals of enforcement actions taken by, among others, the Departments of Consumer Affairs, Public Works, Transportation, and For-Hire Vehicles, and appeals from professional license suspensions and revocations. Judge Teal has also served as a mediator.

From 1988 to 2003, Judge Teal was an attorney with the District of Columbia Office of the Corporation Counsel (now the Office of the Attorney General). Judge Teal began her career at the Office of the Corporation Counsel as a staff attorney with a primary concentration in civil litigation in both the Superior and District Courts. She became a Section Chief in the Office's Civil Litigation Division in 1996, Principal Deputy Corporation Counsel in 1999, and Interim Corporation Counsel in 2002. In January 2002, Judge Teal received the Charles F.C. Ruff Memorial Award for exceptional leadership in public service for her work as Principal Deputy Corporation Counsel. Judge Teal moved to Dutchess County, New York in July 2003, practiced in the Poughkeepsie law firm of McCabe and Mack, and served as Town Attorney for the Town of Amenia, New York until her return to the District of Columbia in 2004.
Judge Teal is a former member of the Board of the District of Columbia Council for Court Excellence. She is also a former Board Member/Mentor in the Law and Government Explorers' Program, Boy Scouts of America – Learning for Life, National Capitol Area Council. She received a CPM from the George Washington University's Program for Excellence in Municipal Management in 1998, and completed the Harvard University John F. Kennedy School of Government's Program for Senior State and Local Officials in 2000. Judge Teal received her Juris Doctor from The Georgetown University Law Center in 1987, and her Bachelor of Arts magna cum laude, from the Harvard-Radcliffe Colleges in 1984.