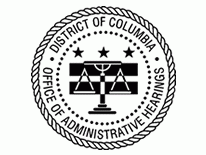 Administrative Law Judge
Judge McDonald has been an Administrative Law Judge with the District of Columbia Office of Administrative Hearings since March 2004. She has previously presided over unemployment compensation cases from the Department of Employment Services, and cases from the Departments of Human Services, Health, Metropolitan Police, Consumer and Regulatory Affairs, and Public Works as well as the Taxicab Commission.
Prior to her appointment to the Office of Administrative Hearings, Judge McDonald served as a Hearing Examiner for the District of Columbia Department of Human Services, Office of Fair Hearings, from 1999 until March 2004. Judge McDonald began her many years of public service in 1984 with the District of Columbia Department of Human Services where she worked in various capacities (Attorney-Advisor in the Office of the General Counsel, Child Fatality Coordinator and Attorney-Advisor for the Commission on Social Services). Judge McDonald also worked with the state of Indiana's Department of Social Services as a Policy Analyst through the National Urban/Rural Fellows Program.
Judge McDonald earned her undergraduate degree in political science, with a concentration in public administration, from the University of North Carolina at Greensboro; her Masters of Public Administration from Baruch College, City University of New York; and her Juris Doctor from Howard University School of Law in Washington, DC.