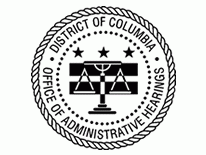 Administrative Law Judge
Judge Masulla has been an Administrative Law Judge with the District of Columbia Office of Administrative Hearings since August 2005. She presides over cases arising under the jurisdiction of agencies that include the Departments of Consumer and Regulatory Affairs, Health Care Finance, Transportation, Health, and the Office of Tax and Revenue.
Prior to joining the Office of Administrative Hearing, Judge Masulla was Senior Attorney and Acting General Counsel of the United States Congress Office of Compliance, which administers and enforces employment and safety laws that cover 30,000 employees in the Legislative Branch, including employees of the Senate, House of Representatives, and Capitol Police.
Judge Masulla also served as General Counsel of a labor-management trust in the construction industry and as Chief Counsel at the Federal Mine Safety Commission, where she was responsible for enforcement and discrimination cases subject to direct appeal to the U.S. Courts of Appeals.
Judge Masulla is a graduate of Boston University School of Law and Mount Holyoke College.