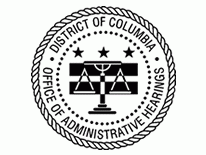 Administrative Law Judge
Judge McClendon began serving as an Administrative Law Judge with the District of Columbia Office of Administrative Hearings in November 2006. From December 2010 – December 2014 he served as the Principal Administrative Law Judge for the Public Safety cluster.
Judge McClendon has had a distinguished career in both the public and private sector. He was appointed by former Mayor Sharon Pratt Kelly to a four year term as Inspector General of the District of Columbia government. Before that, Judge McClendon served as an Assistant Bar Counsel for Special Litigation in the Office of Bar Counsel, the prosecutorial arm of the District of Columbia Bar. After leaving government service, Judge McClendon became an Associate Dean at the Howard University School of Law and taught as an Adjunct Professor. At various times throughout his career, Judge McClendon has maintained a private practice specializing in legal ethics and professional responsibility.
Judge McClendon has lectured extensively on legal ethics both nationally and internationally. He currently teaches courses for the District of Columbia Bar's Continuing Legal Education Program and has taught courses for the Federal Bar Association and the National Bar Association.
Judge McClendon is admitted to the District of Columbia Bar. He is also admitted to practice law before the United States Supreme Court, the United States District Court for the District of Columbia, the United States Tax Court, and the United States Court of Military Appeals.
Judge McClendon is a native of Detroit, Michigan. He graduated from the University of Michigan with a Bachelor of Arts degree in History. He attended the National Law Center at George Washington University where he received his Juris Doctorate degree.