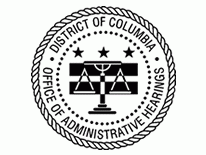 Judge Goodie was appointed as an Administrative Law Judge for the District of Columbia Office of Administrative Hearings in August 2005. She currently presides over unemployment compensation cases from the Department of Employment Services, cases from the District of Columbia Public Schools and cases involving Rental Housing. She has previously presided over cases from the Departments of Human Services, Health, Health Care Finance, Consumer and Regulatory Affairs, and Mental Health, as well as the Metropolitan Police Department.
Prior to her appointment as an Administrative Law Judge, Judge Goodie worked as a prosecutor for the District of Columbia Office of the Attorney General, prosecuting juvenile delinquency (criminal) and child abuse and neglect (civil) cases from 1997-2004. She handled civil litigation matters for a private law firm in Washington, DC from 1996-1997.
Judge Goodie clerked for the Honorable Harriett R. Taylor at the District of Columbia Superior Court from 1994-1995. She received her Juris Doctor from the Georgetown University Law Center in 1994, and received her Bachelor of Arts cum laude from Brandeis University in 1985.
Judge Goodie is the Program Committee Chair for the DC Bar Section on Courts, Lawyers and the Administration of Justice. Judge Goodie taught Juvenile Justice as an adjunct professor at George Mason University in 2005. She is also a faculty member for the annual National Institute of Trial Advocacy Litigation Skills Workshop at the Georgetown University Law Center. During law school, Judge Goodie taught prisoners at the Lorton Correctional Facility.