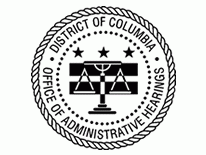 Judge Cobbs began service as an Administrative Law Judge in the District of Columbia Office of Administrative Hearings in August 2005. He now presides in cases involving unemployment compensation, rental housing petitions, and notices of violations issued by the Department of Public Works.
Judge Cobbs practiced as an associate and partner in law firms in New York City and Washington, D.C., from 1974–1989, specializing in insurance, maritime, and aviation litigation. From 1989 to 2005 he maintained his own law office representing individual and corporate clients, and several foreign countries.
Judge Cobbs has been active in the District of Columbia Bar, where he now serves on the Steering Committee of the Administrative Law and Agency Practice Section. Formerly, he has chaired the District of Columbia Bar's Litigation Steering Committee and has served on the Law Practice Management Steering Committee and Membership Committee. In 2003, Judge Cobbs received an Exceptional Service Award from the District of Columbia Bar for his representation of the District of Columbia legal community in connection with pending legislation before the City Council.
Judge Cobbs has organized District of Columbia Bar programs on the Office of Administrative Hearings to assist lawyers in practice before that tribunal. He has taught courses for the District of Columbia Bar and other professional organizations on civil procedure, discovery, mediation and arbitration, transportation law, and insurance law.
Judge Cobbs is a graduate of Amherst College and the University of Pennsylvania Law School. Before attending law school, he served three years as a communications officer in the United States Navy. He is a member of the New York, Maryland, Virginia, and District of Columbia Bars. He has appeared in trial courts in 12 states and the District of Columbia and has briefed and argued appeals before the United States Supreme Court and seven federal courts of appeal.