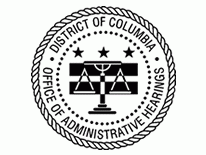 Administrative Law Judge
Judge Harvey was appointed an Administrative Law Judge to the District of Columbia Office of Administrative Hearings in August 2005. He currently presides over unemployment compensation cases from the Department of Employment Services, Department of Consumer and Regulatory Affairs cases, Department of Public Works cases, and professional board appeals.
Prior to his appointment to OAH, Judge Harvey practiced law in the private sector with a number of regional and national firms operating out of the Washington Metropolitan area. In private practice, Judge Harvey represented industrial and commercial clients in a broad range of litigation and regulatory counseling matters involving the transportation of fuel, chemicals, and agricultural commodities by rail, sea, and pipeline, hazardous waste recycling, disposal, and remediation, intellectual property, employment, and corporate governance. He also structured and negotiated long term fuel supply transactions for electric utilities in the Southwestern United States, and co-authored a book on emergency release reporting for hazardous chemicals.

Judge Harvey graduated from the University of Virginia Government Honors Program in 1988, earning a Bachelor of Arts in United States government and foreign affairs, with an emphasis on classical political philosophy. He received his Juris Doctor from the University of Virginia Law School in 1991.