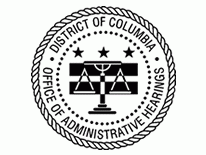 Administrative Law Judge
Judge Mangan has served as an Administrative Law Judge at the District of Columbia Office of Administrative Hearings since January 2007. She hears cases in the areas of Rental Housing, Department of Health, and Department of Consumer and Regulatory Affairs. For ten years prior to her work at the Office of Administrative Hearings, Judge Mangan was the Workers' Compensation Hearing Officer in the Vermont Department of Labor. Judge Mangan began her legal career as a Judicial Law Clerk in the Vermont trial courts and then as an associate with Sylvester & Maley, Inc., in Burlington, Vermont. She practiced and taught professional nursing in several states before entering law school.
Judge Mangan graduated magna cum laude from Vermont Law School. She earned a Master of Science Degree from Boston University and a Bachelor of Science Degree in Nursing from Carlow University. She is admitted to practice in the District of Columbia.
Judge Mangan is a member of the American Bar Association, National Association of Administrative Law Judiciary and National Association of Women Law Judges. She reads with an elementary school student with the Everybody Wins Power Lunch Program and tutors high school students at Maya Angelou Public Charter School.